Frequently asked questions
What grade do you teach?
---
I teach 4th 5th and 6th graders as part of a Multi-Age Classroom (MAC) with a growing empasis on Mass Customized Learning (MCL) and meeting required standards through Project Based Learning (PBL). I have two partner teachers and together we teach 72 learners. These learners have opted in to the program and will remain with us from 4th to 6th grade. Each teacher teaches every subject through small groups and individualized schedules.
---
Amazon Store - All my favorites.
---
Clothes Most of my clothes are old now. I enjoy the fancier brands but they aren't really in my budget anymore. Classroom Items I try and put my favorites and popularly requested items in my Amazon Store.
---
How do I get the planner to work on my device?
---
Thank you for purchasing my planner! Please use this walkthrough to get started with your new planner. These tips will work with any of the planners that I offer. Enjoy!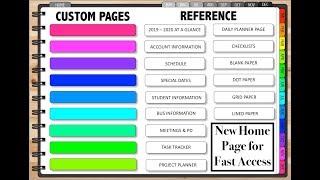 ---
Contact Information
---
Bridget@TheLetteredClassroom.com
---
About me.
---
HELLO
.
I'm not sure I've ever done this, so I figured this was a great day to go for it! So, for those of you who don't know me, here is a little bit about who I am.
.
My name is Bridget Marie Spackman. I'm a 34 year old Latina woman. I was born and raised in Houston, Texas and moved to Alabama when I was 20 years old.
.
I struggled in school and had my older son, Ian when I was 21. He was my angel. He made me wake up and get my head straight. After having him and struggling alone and through a rough relationship, I moved in with my mom and dad.
.
I went to a community it's college and had a full time job. I ended up graduating from the University of Montevallo first in my class at the age of 26.
.
I was hired by my internship school as a kindergarten teacher and stayed there for 4 years. I met my husband, Trent, through Match.com during my first year teaching. We got married less than a year later and it was the best decision EVER! We had our son Blaine shortly after ☺️
.
We moved to central PA in 2016, where I now teach as a multiage teacher yo fourth, fifth, and sixth graders. I LOVE MY JOB! I was diagnosed with Hashimoto's a year ago and I've been working on stabilizing my health and regaining my life, energy and happiness back.
.
Over my 8 years of teaching, literacy has been a passion and love of mine. I've worked on personalizing the learning experience for my kids and literacy plays a big part in that.
.
I share my experiences and my knowledge on YouTube through The Lettered Classroom. Every Wednesday, I go live sharing information or just doing a simple Q&A and I post videos on Sunday mornings.
.
I love anything productivity, literacy, Goldendoodles, Diet Coke and chocolate.
.
I love this community and I'm happy you are here!
.
Thanks for taking the time to check out my page and who I am.
.
Leave a comment and say hello 👋🏼
---
---