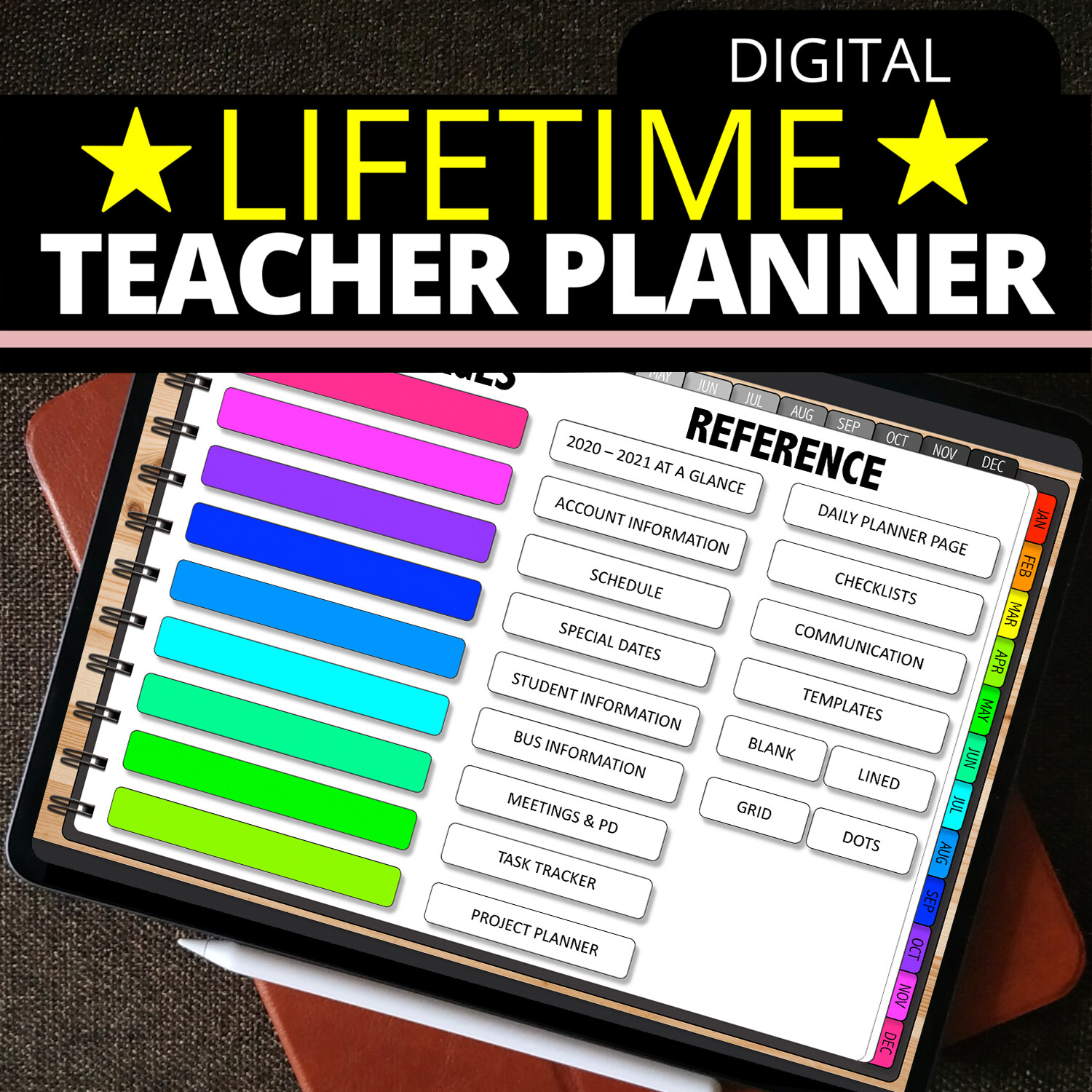 LIFETIME TEACHER PLANNER (Current 2020-2021)
SKU LTTP
Product Details
You asked for it! Purchase now and never buy again!
- - - - - - - - - -
2020-2021
FREE DIGITAL NOTEBOOK - Extra linked pages. Want a separate linked page per student? per project? per...anything!
20 Dated Monthly Layout pages - Just like last year, I have included over a year and a half of dated pages. This should fit with whatever you teach and wherever you are!
Weekly Pages - These pages are completely customizable! You have the option to make as many breaks as you want.
Monday to Sunday Format - This is my favorite format. I like to have my weekend chunked at the end. (Please note that the weekly pages do not have Saturday and Sunday, but you are able to use two of three side boxes for your weekend.... tailor it to YOU)
Home page - The homepage is now a one stop shop for all links in the planner! It is now easy to find templates, add checklists, and find the page that you are looking for quickly.
Nine Custom/Create Your Own Pages - That's right! Nine CYO pages to use however you see fit! Label according and never lose your page.
Yearly At a Glance Page - Quick view and jump to any month
Account Information Page - No more "What's my password for ___________?"
Weekly/Cycle Schedule - This page will be a simple game changer for some of you!
Special Dates - Birthdays and Special events...our classroom is full of them!
Student Information - Having one place to find Student contact information is priceless...no more searching.
Bus Information - Keeping track of our learners...What bus do I get on, again?
Meetings and PD - Perfect for keeping a long term view of upcoming requirements
Task Tracker - Check off those lists!
Project Planner - Organize each project with the Newly designed Project Planning page. This page will become a staple in your planning. Drop in to one of your custom tabs and keep your thoughts organized!
Daily Planner Page - This is one of my favorite new pages and one that was highly requested. Planned 7am to 7pm in 30min increments - Includes a Top 3 list, To-do list, water intake tracker and custom grid.
Checklists - Basic XY checklist perfect for grades or any tracking, BOY, EOY, Field Trip, Conferences, Party, Blank Template
Blank Paper Template - Thats it! Its blank, drop it where you want it.
Dot Paper Template - My personal favorite! The dots keep a simple, clean and organized look to each page. I'll be dropping in plenty of these
Grid Paper Template - Grids come in handy all the time! Want a new check list? or layout a new room arrangement? Drop it where you want it.
Lined Paper Template - Sometimes you just want some lined paper, drop it where you want it.
Digital Planners work on most devices including Apple, Android and PC/Mac. Read below for details.
To use the planner, you must use an Annotation App. Both free and premium versions are available.
Xodo (Free) is the most popular Android annotation app, but it also works well on computers and iOS devices.
Goodnotes ($) and Notability ($) are both iOS only but definitely give you a premium experience including extra tools and stability. Click on each of their links to determine which will be best for you.
Goodnotes 5 Compatibility iOS 12 or newer
Notability Compatibility - iOS 10 or newer
Xodo Compatibility - Please choose from their long list of available devices

A stylus is recommended, and the Apple Pen is the best of the styluses. If you are committed to digital planning, it is well worth the investment.
Noteshelf - ($) iOS / Android / Macs - This is a new community favorite. If you are on Android and looking for a premium app, I would definitely consider this one.
Currently, I am using:
iPad Pro (12.9-inch; 256GB) (2nd Generation)
Apple Pencil (for 2nd Gen)


Goodnotes5
Originally, I used an iPad 2 and rotated between two styluses.
I've used the 2018 iPad with both a standard stylus and the Apple Pencil (Gen 2)
If you are considering upgrading, the Apple Pencil will make a huge improvement. Highly Recommended!
Having troubles getting the planner onto your device?
* Please note that these are designed to be used on a device, not for printing.
** Due to the nature of this product as a Digital Download, RETURNS ARE NOT ACCEPTED. Please contact me Bridget@TheLetteredClassroom.com with any questions or concerns related to the planner. Also, as mentioned above, try out the 2018 Life Planner with the Xodo app Completely FREE to help determine your interest in digital planning.
Save this product for later
Don't forget to create an account to checkout!